Provider surveys, discharge planning for homeless patients, and oral health provider education in November 2022
Provider surveys, discharge planning for homeless patients, and oral health provider education in November 2022
Featured story:
Holistic health benefits of chiropractic care

When people hear chiropractic care, many think of alleviating pressure in the back with a distinctive series of cracks. While spinal manipulation in that way is part of this type of care, it's far from the only benefit.

This complementary medicine has been increasing in popularity — in fact, one estimate notes that projected job growth for chiropractors is twice as high as the average for nearly all other U.S. occupations—in large part because it isn't just occasional back cracking to release tension in the spinal joints. Here's what the research says on this treatment's wider array of benefits.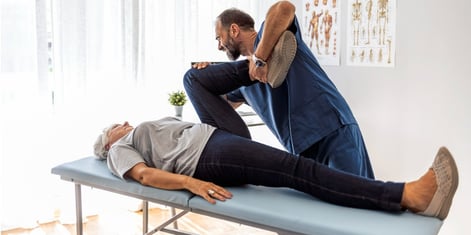 In this issue:
Provider surveys
Discharge planning to support members experiencing or at risk of homelessness
Oral health provider education
Medicare Advantage diagnosis codes
Medicare Advantage
Rebrand
Gender-Affirming Care for MassHealth members
Medical policy updates
Interqual update
Code updates
Drug code updates
New codes
Formulary updates
---
Please complete these two provider surveys
Please take a few minutes to complete each of the following brief surveys before December 2nd and you'll be automatically entered in our drawing to win a $25 Amazon gift card plus swag from Mass General Brigham Health Plan:
Provider Directory Accuracy: Let us know if your information is accurate.
Future Appointment Access: Let us know about your next available appointments.
---
Discharge planning to support members experiencing or at risk of homelessness
MassHealth has established specific discharge planning requirements for Acute Inpatient Hospitals, Freestanding Psychiatric Hospitals and Accountable Partnership Plans. These requirements were put in place to create more effective discharge planning efforts in order to decrease the number of people who are discharged from healthcare facilities directly to homeless shelters. Additional information on MassHealth requirements can be found on the mass.gov website, MassHealth Bulletins, July 2021, #27 and #64.
Network hospitals are required to contact AllWays Health Partners at the time of admission in order to collaborate in identifying resources to assist with the housing insecurity of members experiencing or at risk of homelessness. As required, please notify us to initiate a member's discharge planning process at:
In your email, please provide the following member information: patient's full name, date of birth, referring facility name, facility discharge specialist name, phone number, and email address for follow-up.
---
Oral health provider education
Please remember to encourage your patients, especially children, pregnant women, and patients with chronic diseases such as diabetes to get their annual oral health evaluations. Let's keep those smiles healthy and gleaming!
Enclosed are links to some great brochures you can use in your offices: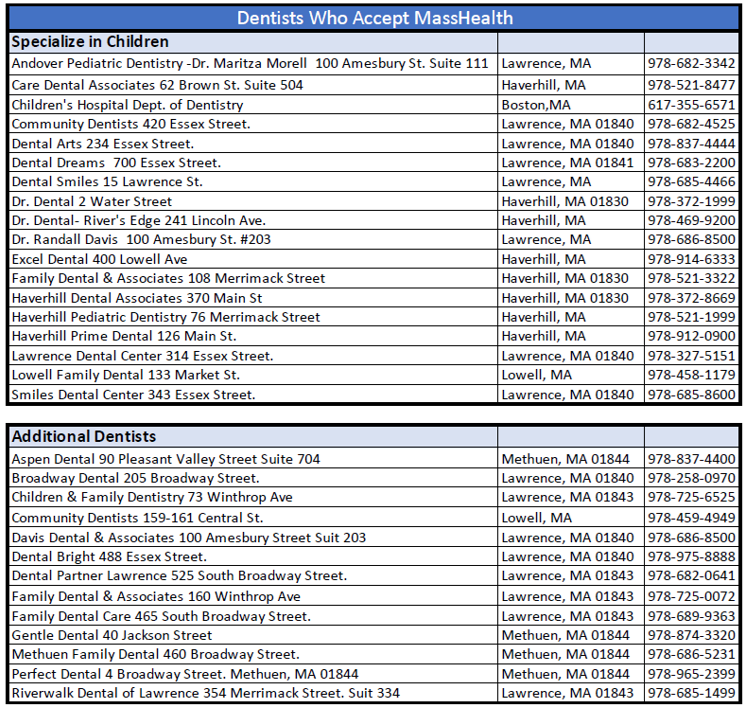 ---
Medicare Advantage diagnosis codes
Beginning 1/1/2023, as a requirement for Medicare Advantage, providers will be required to submit a diagnosis code on any authorization requests submitted via the Provider Portal for Medicare Advantage members.
---
AllWays Health Partners to offer Medicare Advantage products
We're pleased to announce that, under our new name, we will offer our first-ever Medicare Advantage products – also on January 1, 2023. This will give us the opportunity to support a growing population with a broad range of healthcare needs.
Your support is critical to the patient experience we're creating with our new Medicare Advantage plans. We'll be in touch over the coming weeks with more information. In the meantime, please visit our Medicare Advantage Provider Page, as this will be updated on an ongoing basis with the latest information available.
---
Update on becoming Mass General Brigham Health Plan
As you know, we have announced that AllWays Health Partners will become Mass General Brigham Health Plan on January 1, 2023, to reflect and advance the system's unique provider-payer integration that is improving health outcomes, reducing costs, and transforming the healthcare experience.
Please visit our Rebrand Provider FAQ for the latest information about our new name.
---
Gender-Affirming Care for MassHealth Members
In November 2021, MassHealth launched its Gender-Affirming Care for MassHealth Members web page, providing information and resources about MassHealth coverage for gender-affirming care and other resources about health care for transgender and gender-diverse members.
MassHealth is continuing to collect information from MassHealth providers who want to voluntarily self-identify as providers of gender-affirming services. The purpose of this effort is to help members find MassHealth providers who offer gender-affirming care services. Using this self-reported information, MassHealth intends to post an informal directory of MassHealth gender-affirming care providers on the publicly available gender-affirming-care web page (https://www.mass.gov/gender-affirming-care-for-masshealth-members), toward the end of this calendar year.
If you are an active MassHealth provider who provides gender-affirming care and would like to self-identify as such, please fill out the form at https://www.mass.gov/forms/gender-affirming-care-provider-self-identifcation. While you may fill out the form at any time, it would be helpful if you can do so by November 15, 2022.
If you are a MassHealth provider who had previously self-identified as a MassHealth provider of gender-affirming care, but would like to be removed from this gender-affirming care provider directory before the initial posting, please email physicianservices@mass.gov with the subject line "gender-affirming care provider form removal," by November 15, 2022.
Providers who wish to update their information or be removed from the gender-affirming care provider directory may also email MassHealth at physicianservices@mass.gov at any time once the provider directory has been posted.
Please pass this message along to any active MassHealth providers in your network who provide gender-affirming care.
Please note that this information is self-reported only. MassHealth reserves the right to verify any submitted information, but assumes no obligation to do so. Any provider completing this form must report to MassHealth any changes to their status as a self-reported provider of specified gender-affirming care (e.g., change of address, new services offered, etc.).
For information about gender-affirming surgeries and hair removal as a treatment for gender dysphoria, visit MassHealth's Guidelines for Medical Necessity Determination for Gender-Affirming Surgery and Guidelines for Medical Necessity Determination for Hair Removal, found at MassHealth Guidelines for Medical Necessity Determination | Mass.gov.
If you have questions about this form, email physicianservices@mass.gov with the subject line "gender-affirming care provider form."
---
Medical policy updates
Six medical policies were reviewed and passed by the AllWays Health Partners Medical Policy Committee. These policies are now posted to allwayshealthpartners.org. The table below is a summary.

For more information or to download our medical policies, go to allwayshealthpartners.org/providers/medical-policies and select the policy under the medical policy listings.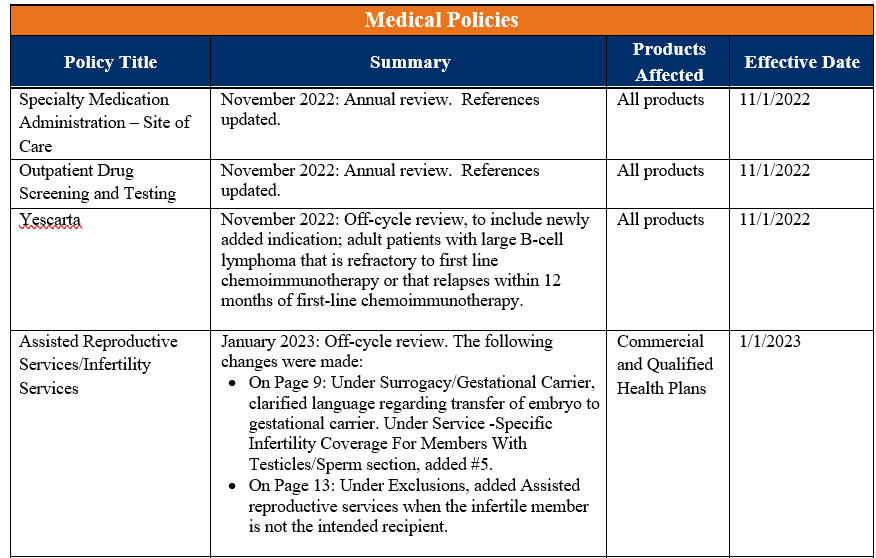 ---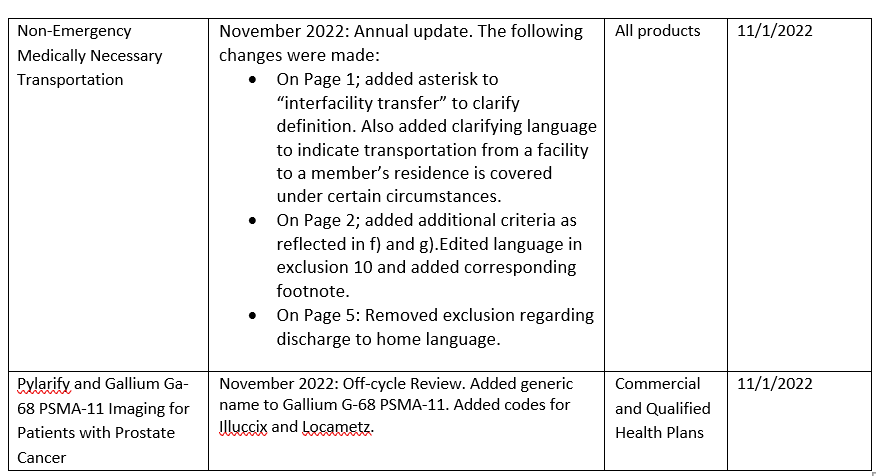 ---
Customized Medical Necessity Criteria-Now 2022
In October AllWays Health Partners migrated its customized InterQual criteria to 2022.

In addition, as of November 1, 2022, AllWays Health Partners customized InterQual criteria and published a new guideline;
1. Noninvasive Airway Assistive Devices. The guidelines are called "Noninvasive Airway Assistive Devices (Custom) – AWH".

To access this criteria, providers should log in to AllWays Health Partners' provider website at allwaysprovider.org and click the InterQual® Criteria Lookup link under the Resources Menu.
---
Code updates
As a reminder to the network the following service(s) are not covered for all lines of business: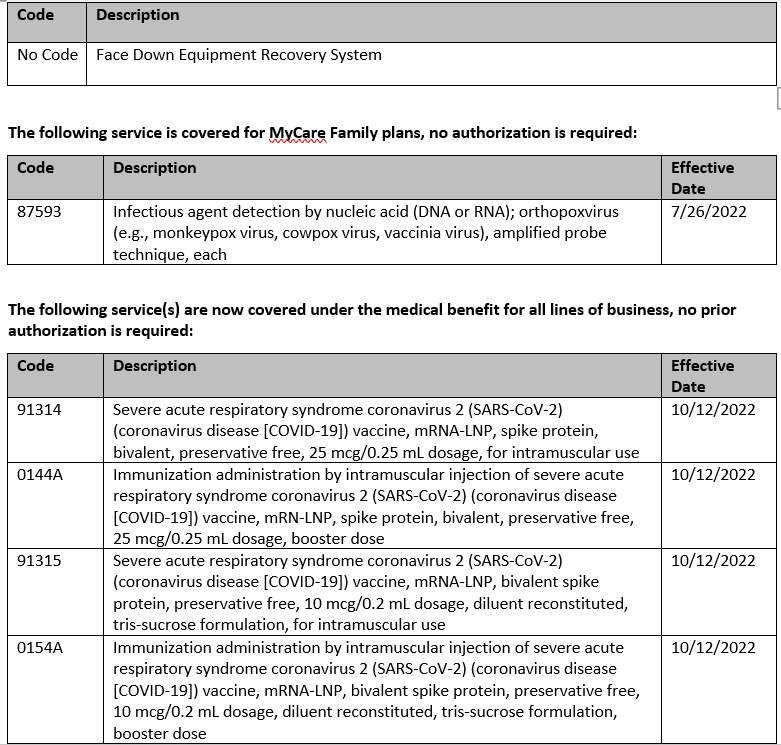 Drug code updates

---
Formulary updates
Effective 1/1/2023