Formula recall, the Launch of Rx Savings Solutions, and how to recommend your patients to our Healthier You program in March 2022
Formula recall, the Launch of Rx Savings Solutions, and how to recommend your patients to our Healthier You program in March 2022
Featured story:
Do your patients know about our Healthier You program?
Have you heard of our Healthier You program? As a provider, you can recommend this program to your patients who are looking to lose weight, eat more healthfully, increase physical activity, and reduce the risk of conditions such as diabetes and heart disease. In recognition of National Nutrition Month, learn more about the Healthier You program at AllWays Health Partners.

Continue reading on AllWays Insider
In this issue:
Advance explanation of benefits (AEOB)
Formula recall
Rx Savings Solutions
Medical policy updates
Formulary updates
Code updates

Advance Explanation of Benefits (AEOB) go-live date
The AEOB is a cost estimate for members to keep them informed about their cost-sharing prior to specific scheduled services. A member can request an AEOB after scheduling a service with their provider. Because the final federal rules have not been published, AllWays Health Partners will offer an interim AEOB request process for 3/15/2022. This is one element of the Federal No Surprises Act. Read more on our blog or check out our fact sheet.
---
Formula recall
We at AllWays Health Partners are concerned about the health of all our members, even our smallest and most vulnerable. Recently, we learned that there was a recall of infant formula from the company Abbott. The infant formulas have possibly been linked to several infants becoming ill with Cronobacter sakazakii or Salmonella Newport. They have recalled Similac, Alimentum and Elecare that were manufactured from the Sturgis Michigan manufacturing plant.
Members and providers who feel they may be impacted by this recall, can utilize Abbott's website Product Lookup (similacrecall.com) to check their cans of formula.
For those members who obtain their formula through their DME (Nutritional) benefit, we are asking physician providers to resubmit the necessary clinical documents to the DME provider to obtain a new authorization with the new formula brand. We have checked with many of our DME companies, and they have followed up with members who are receiving formula, by sending emails, text messages and letters.
Here are some alternatives to the Abbott formulas: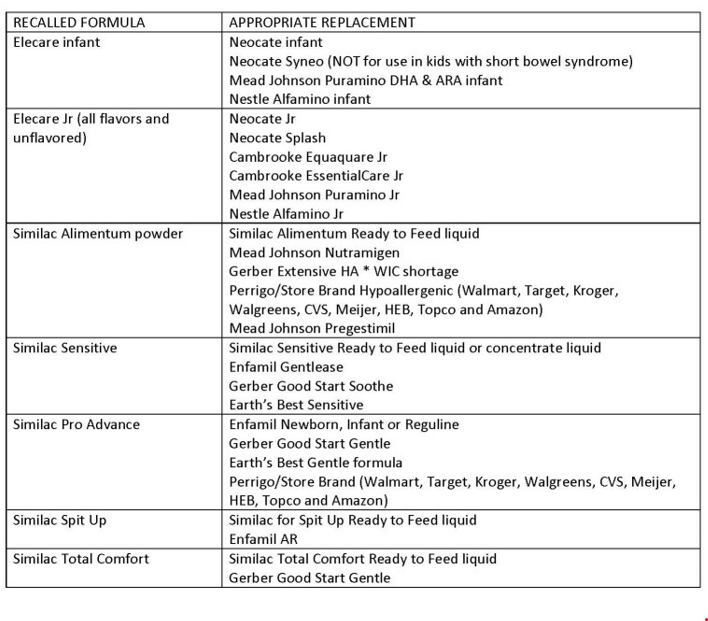 ---
Rx Savings Solutions
As of March 1, many of your patients can begin using Rx Savings Solutions, a new way for members to save on prescription costs. This program is founded and led by pharmacists that offer clinical expertise to reduce prescription drug costs for members and employers. Here's how it works:
Rx Savings Solutions uses software that layers on top of a plan member's existing pharmacy benefit. It analyzes claims, formularies, plan designs, and networks to find the member's lower-cost prescription drug options.
Members receive proactive notifications when they can save money—by email, phone, text, or letter. They access an online account through the AllWays Health Partners member portal to see what lower-cost prescriptions are available and compare prices based on their specific health plan.
Concierge service makes it easy for members to switch to a more affordable prescription. Rx Savings Solutions partners with healthcare providers to get their approval on any changes and takes care of all the details.
For more information on how your patients can access this benefit, share this flyer which outlines how members can get set up with Rx Savings Solutions along with frequently asked questions.
---
Medical policy updates
Four medical policies were reviewed and passed by the AllWays Health Partners Medical Policy Committee. These policies are now posted to allwayshealthpartners.org. The table below is a summary of the policies and the changes.
For more information or to download our medical policies, go to https://www.allwayshealthpartners.org/providers/medical-policies and select the policy under the medical policy listings.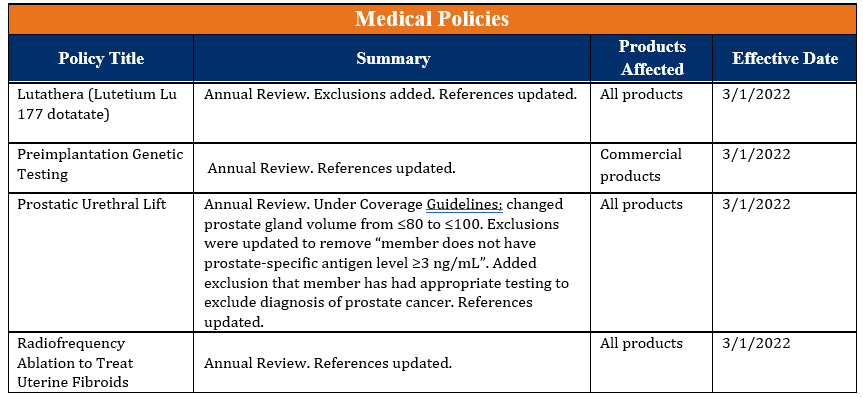 ---
Code updates