New hours for our provider service line, COVID rates, and recognizing American Heart Month in February 2022
New hours for our provider service line, COVID rates, and recognizing American Heart Month in February 2022
Featured story:
Refer your patients to iHeart Champion, a personalized heart disease management program
Did you know that AllWays Health Partners offers our members a heart-health program in collaboration with Brigham and Women's Hospital—at no cost to them? In recognition of American Heart Month, learn more about the program designed to help your patients reduce their bad cholesterol, blood pressure, and risk of heart attacks.

In this issue:
New hours for our provider service line
COVID rates
Coverage for blood pressure cuffs
New credentialing vendor
Acute Hospital Care at Home Program
Mandated reimbursement for services related to testing and treatment for COVID-19
Medical policy updates
Code updates
New hours for our provider service line
Beginning on February 14, 2022, our provider service line will be closed on weekdays between 12-12:45 PM. This will allow us to make more representatives available to take calls when the lines are open. Our provider portal is designed to manage most administrative questions, leaving our telephone lines open for urgent care-related issues.
Watch the video and check out the links below for online tools to help providers get quick answers to administrative questions.
Visit allwaysprovider.org to check claims, view member eligibility, submit an authorization request, and more.
Visit our online code checker tool to prior authorization requirements for many in-network outpatient services covered under the medical benefit.
Visit our provider education page to access authorization instructions, payment guidelines, and help registering for your portal.
Visit our COVID-19 FAQ to find our payment policies during the public health emergency.
---
Coverage for blood pressure cuffs
AllWays Health Partners understands the importance of our members active participation in their treatment plan. Therefore we would like to make providers aware that members have access to blood pressure cuffs through their pharmacy benefit as long as they have pharmacy coverage through AllWays Health Partners at no cost to the member. The member would need a prescription to be sent into the pharmacy for one of the blood pressure cuffs listed below. We also have coverage for other more specialized BP cuffs through the DME benefit.

These are the BP cuffs we allow to process on the pharmacy benefit at $0 cost to the member.

Covered Blood Pressure Monitor
Omron BP760N 7 Series (NDC# 73796-0267-60)
Omron BP Upper Arm Series 5 (NDC# 73796-0267-25)
Omron BP Upper Arm Series 3 (NDC# 73796-0710-02)
---
New credentialing vendor
In an ongoing effort to enhance the quality of the network and provide a positive provider experience, AllWays Health Partners is excited to announce we will be switching credentialing vendors this spring to andros*.
Founded in 2013 as CredSimple, andros* was created following the acquisition of Glenridge Health in 2020 to create the first and only technology company to provide healthcare network development and credentialing services in one platform. andros* is continually raising the bar for credentialing timelines and onboarding—a critical but unsung component to ensuring patients get seen, doctors get paid, and administrative barriers to care are removed as quickly as possible.
---
Acute Hospital Care at Home Program
AllWays Health Partners has taken steps to align with the Centers for Medicare and Medicaid Services' (CMS) comprehensive outline that was issued at the end of 2021, providing care to patients outside a traditional hospital setting amid a rising number of hospitalizations across the country.
In an effort to properly identify facilities and systems in the program, please notify your AllWays Health Partners Contract Manager and PEC@AllWaysHealth.org upon CMS approval for the Acute Hospital at Home Program. Approval into the program is required and will be verified by AllWays Health Partners staff.
---
Mandated reimbursement for services related to testing and treatment for COVID-19
AllWays Health Partners will adopt DOI-mandated reimbursement levels for COVID-19 testing and treatment. We will not make any adjustment to these rates. We are also in the process of completing a retrospective review of payments to resolve administrative coding issues related to COVID-19 testing and vaccine administration. We will provide more information when it is available. For the latest, visit info.allwayshealthpartners.org/covid19-faq
---
Medical policy updates


Seven medical policies were reviewed and passed by the AllWays Health Partners Medical Policy Committee. These policies are now posted to allwayshealthpartners.org. The table below is a summary of the policies and the changes.

For more information or to download our medical policies, go to allwayshealthpartners.org/providers/medical-policies and select the policy under the medical policy listings.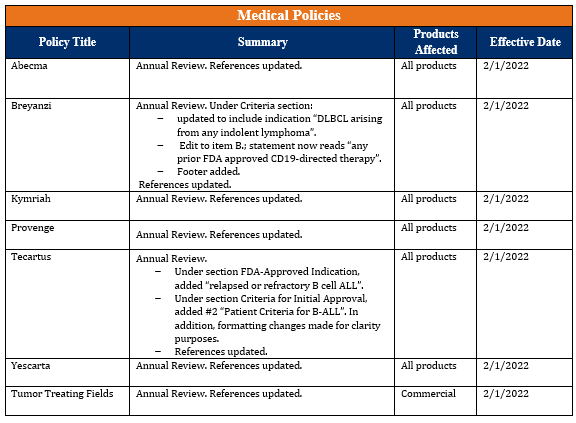 ---
Code Updates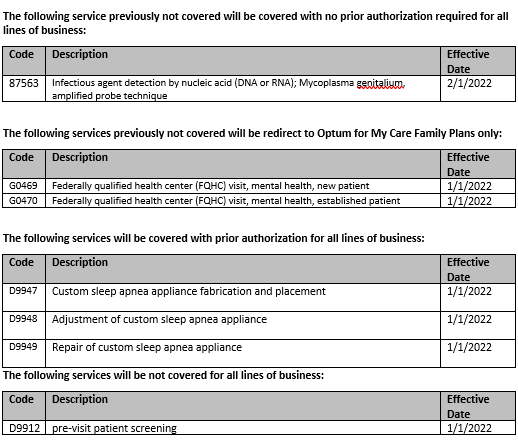 Drug code updates